---
The Supermarine S.6B
The Schneider Trophy
Jacques Schneider was a French industrial manager, licensed plane and balloon pilot, and, for a long time, held the balloon altitude record (10.081 m, 33,074 ft.). Deprived of flying due to a serious accident, he supported various competitions and aero clubs financially.

As race referee at the Monaco meeting in 1912, he noticed that seaplane design was lagging far behind other aircraft. Since seaplanes promised to be the best solution for long-range passenger service, Mr. Schneider thought that a seaplane race would allow these aircraft to improve more quickly. On December 5th, 1912, at the Aéro-Club de France, he offered a trophy for a seaplane race and proposed a course of at least 150 nautical miles.

This competition was known under various names: Schneider Trophy, Schneider Cup, and Flying Flirt. The official name, in French, was "Coupe d'Aviation Maritime Jacques Schneider". The trophy was a work of art costing 25,000 francs. The aero club winning 3 races in 5 years would retain the cup and the winning pilot would receive 75,000 francs. Each edition of the race was to be hosted by the previous winning country. The races were to be supervised by the Fédération Aéronautique Internationale and the Aero Club in the hosting country.

Each club would be permitted to enter up to three competitors with an equal number of alternates. In 1921 the course was increased to 212 nautical miles, with only one authorized take off, after a 2,5 nautical mile water navigation contest. After 1921, an additional new requirement was added: the seaplane had to remain moored to a buoy for six hours without crew aid. Crowds in excess of 250,000 spectators gathered to watch the Schneider Cup races, proving a keen public interest in this type of competition.

From The Schneider Trophy by Pierre Pecastaingts and Gib Dickerhoof
---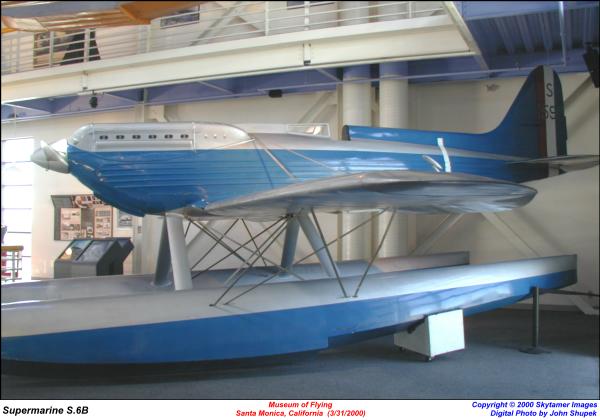 The Supermarine S.6B
The Supermarine S.6B was one of the major technical achievements in British aviation between the two world wars. The aircraft won the Schneider Trophy seaplane contests for speed over a set course for the third successive year - and outright - on 12 September 1931. The S.6B came from a line of racing seaplanes designed by Reginald Mitchell, later to design the Spitfire fighter.

To cool the aircraft's enormously powerful Rolls-Royce R engine without causing drag, the wing surfaces and the tops of the floats were constructed as double-skinned surface radiators in which the engine-cooling water flowed as a film. The oil was cooled by passing down the length of the fuselage in parallel pipes, then cascading down inside the tail-fin into a collector tank. All external surfaces were smooth and were assembled with 'flush' (countersunk) riveting - an advanced new technique at the time.

No doubt the most difficult problem set by the S.6Bs was in control and handling, particularly at take-off. This was due to the effect of the low air speed of a coarse fixed-pitch propeller at large throttle openings. When the first S.6B S1595 was delivered, it was found impossible to take off because of its continual yawing on the water. The propeller had been specially designed for the S.6B and was 8 ft 6 in in diameter. Eventually, after interchange with the S.6A propeller and further experiments, one of 9 ft 2 in diameter was found to be the most efficient and was used in the contest.

In a lecture in 1968 to the Historical Group of the Royal Aeronautical Society by Grp Capt L. S. Snaith, one of the 1931 Schneider team, said 'The effect of torque was our main concern. As engine power increased the left float was forced deeper into the water and this, coupled with the forward movement, dragged the aircraft to the left. With these two opposing forces to contend with, the start of the take-off had to be at least 45 degrees out of wind and full right rudder had to be applied and held on.' He went on to say that directional control could be attained only when the aeroplane had accelerated sufficiently and was pulled round into the wind. The pilot was not out of the woods even then. There was a porpoising tendency which needed the control column to be held right back throughout take-off, the most critical part of the whole operation. When the aircraft eventually unstuck it did so quite suddenly. 'It leapt off the water and into the air at a pronounced angle and in a partially stalled condition, virtually hanging on its propeller', he continued. 'It was the hardest thing to resist an impulse to let the control column go forward. If we failed we ran into serious trouble. The whole manoeuvre was complicated because many a time we had to take off blind, our goggles being misted up or covered in water.' Grp Capt Snaith further described the alighting regime as dictated by the fact that the aeroplane was exceptionally 'clean' and deceleration very slow. The cushioning effect between the wing and water was largely responsible and the view ahead was impeded by the nose more and more as the speed ddroppedand the angle of attack increased.

After the 1931 and last contest came the inevitable decision by the Air Ministry to close down the High Speed Flight and to restore the Calshot base to its flying-boat squadron. Only an intercession by Sir Henry Royce (knighted in 1930 for his services to the aircraft industry) saved the day for an attempt to be made to raise the record to over 400 mph with the S.6Bs, an achievement earnestly desired by Ernest Hives, experimental manager of Rolls-Royce and later Baron Hives of Duffleld. and of course by Supermarine's Mitchell. So with [Rolls-Royce] R engine number 27 installed in S1595 and fed by a special fuel prescribed by Rodwell Banks and consisting of 30 per cent benzole, 60 per cent methanol, 10 per cent acetone and one part per thousand ttetraethyllead, George Stainforth achieved the world record of 407.5 mph on 29 September, which figure was duly homologated by the FAI.

Adapted from Supermarine Aircraft Since 1914 by Andrews and Morgan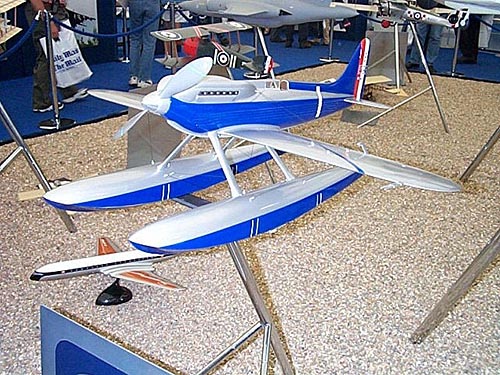 ---
The Temple Air Supermarine S.6B
I have attempted to recreate the S.6B as closely as possible within the limitations of X-Plane. The original had an RAF-27 airfoil for which I substituted a NACA 0009 of similar profile. The floats are larger in volume and slightly lower to try to keep the prop from hitting the water so much. As in the original, there are no flaps. Due to the limitations of X-Plane (and my own graphic limitations) I have painted on a full canopy, which in the original was only a partial windscreen. As in all my Temple Air designs, I haven't spent any time on cockpit panel rework. I leave that up to others with more artistic talent!

Flying the S.6B
As it was with the original, flying the Temple Air S.6B is a challenge! To start, select an airport near water. After the plane quits bouncing around on the runaway, go to Settings and adjust the water weather conditions to a wave height of zero. Then under the Locations menu, select a seaplane takeoff. Once on the water it's quite likely that the prop will have stopped due to a water strike. Under the Settings menu item, select Equipment Reliability and go to the top of the left column. On the engine entry click the button on top to change from "inoperable" to "always reliable". Then return to the cockpit and if desired set the autopilot values for heading, altitude, and vertical speed. Once airborne you will be too busy to mess with them!

Now you are ready for takeoff. For your first take off you might want to switch to the chase view (shortcut key "a"). Keep the stick all the way back and ease on the power. The plane will twist and attempt to dig in a float so you will have to counter with the ailerons. As your speed picks up the nose will rise, this will keep the prop clear of the water. The leap into the air will be sudden and one wing or the other will drop violently! If you have managed to keep your plane in the air you may experience some yawing as the speed builds. Finally when you gain enough speed the flight will smooth out a bit. Now is the time for the autopilot so you can enjoy yourself for a few minutes before you think about landing!
---
The Supermarine S.6B is currently at version 1.0.
Download the Supermarine S.6B version 1.0 (X-Plane version 5.62)